Super Mario Happy Birthday 18" Square Foil Balloon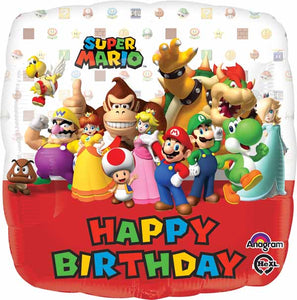 This 18" Birthday Mario foil balloon features the Super Mario gang, including Mario, Luigi, Donkey Kong, Princess Peach, Toad, Yoshi, Princess Daisy, Rosalina, Wario, bowser and Paragoomba.   Fill with helium for fun Mario party decorations or make this balloon a part of a Birthday surprise bouquet.
empty price
Niagara residents can have this balloon filled in our Niagara Falls store for pickup or delivery.  Please inquire for pricing.